Discover the Benefits of Intercoms
06/23/2014
Back To Blog
Once upon a time, intercom systems were limited to commercial use solely and perhaps to big apartment buildings. With technology developing incredibly fast we have the chance to enjoy these fabulous systems at our own front yard, too. Our rolling gate won't be a simple system anymore! It will have a modern intercom connected to our phone and opener and, at last, we will enjoy the convenience of controlling the automatic roll up from the comfort of our home and the reassurance that we are secure. Two in one! Isn't it an excellent package!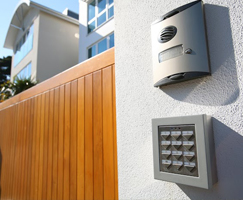 Intercom systems give you power and control
Imagine being in your kitchen preparing for the kid's party! You are running late, the kitchen is a mess and you are between the potato salad and the cake when the bell at the gate keeps ringing and you have to go down to open the gardener, the flower boy, the catering people, aunt Paula and the postman. With an intercom system, you would just have to buzz them all in just by pressing one single button on the phone and, voila, the automatic rolling gate will welcome everyone nice and easily.
Convenience is guaranteed but then again the greatest benefit from these systems is security. It might be tiring and annoying to go back and forward to open the overhead gate but it's even more important having the capacity to check who is standing at the entrance of your home. In fact, these days you have amazing options among black and white to color cameras, wireless systems, keypads and temporary access codes. Knowing who is asking permission to enter your house and having the power to deny access are both very important for security reasons.
Actually, your life becomes even better when you program entry codes for the whole family. Just enter your password and Open Sesame! The easiest way to get through the gate and let other people get in since you can have temporary access codes for your milkman, the courier boy, some close friends or even your in-laws. Who said that life is complicated today! In fact, we have so many options to make our lives easy and more secure that only those with intercoms installed to their roll down doors and gates would know. Now, if you choose to deny access to your mother in law, that's perfectly understandable. Just get an intercom and you'll have the pleasure to do anything you want!